In this section we have collected in a sort of "Franchising handbook" in the accordance with our Sharing Knowledge spirit, some useful information about international franchising, set-up as a "question and answer interview". You'll find that the questions proceed roughly in the order you are likely to have posed yourself. And you'll see that the answers seek to pinpoint what you need to know; where to learn more; and for what purposes you will most need ti be trained for it.
By the time you've read through aour blog, you will have a pretty clear idea of how many informations and decision you will have to make when you decide to enter this world. And, short of those, you will have identified trouble spots that may dictate deferring consideration of one or more items until some threshold issues can be explored.
Make no mistake about it. These pages will not make you an expert in "franchising" and it will certainly not make you authoritative on the many other disciplines that will have a bearing on your franchise programme. What it can do, however, is to distil from otherwise indigestible masses of material what you would need to know about the life of a franchise.
---
Laws Applicable to Franchising (updated February 2014)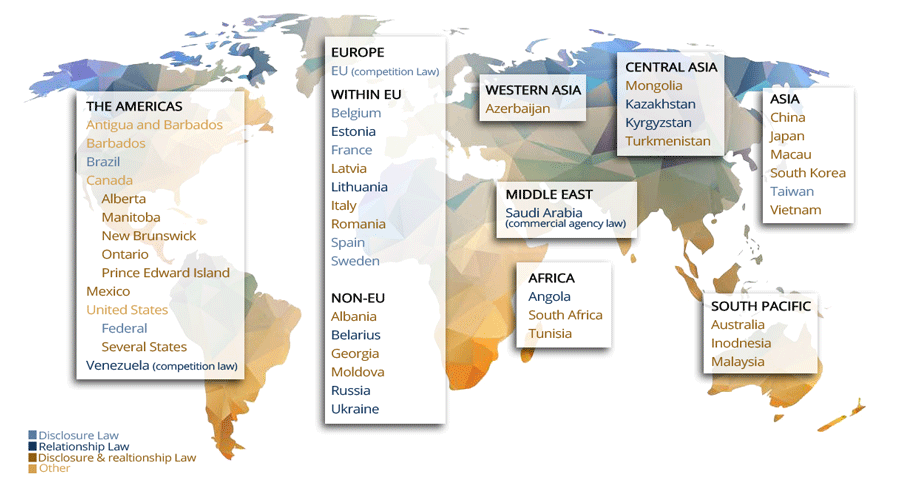 Does not include:
Codes of conduct which do not provide for governamental or private enforcement, even if promulgated under governamental authority
Bodies of law (e.g. competition, intellectual property,etc.) which also cover franchising, unless explicitly mentioned
These articles were first published in Getting the Deal Through – Franchise 2014, (contributing editor Philip F Zeidman). For further information please visit www.GettingtheDealThrough.com